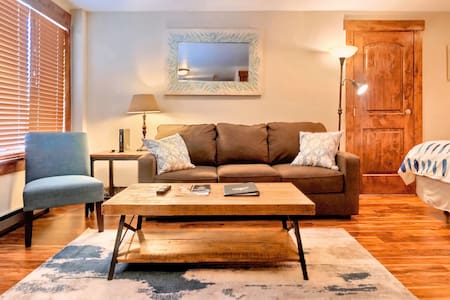 SUPERHOST
Entire condominium · 4 guests · 2 beds · 1 bath
Take a Break in Breck @ Stunning Ski In+Out Studio
*PLEASE ALSO READ ON BELOW REGARDING "OTHER THINGS TO NOTE"* Our studio in The Village at Breckenridge truly meets the mountain. Positioned as a favorite ski-in/ski-out access point at Peak 9, with on-site everything-you-could-need, sleeps 4, ideal for couples or families, including ski school, equipment rental, restaurants/bars, heated pool, hot tubs, saunas, and gym. Or to explore historic Main St, literally just walk across the street, to find more boutiques and award-winning foodie spots.
What guests are saying:
"HOST OVERALL SERVICE: The hosts were amazing about getting back to me in a timely manner. They made sure to respond within an hour about anything I needed. Most times, it was under an hour. They were very thorough with their answers and made sure to break down every detail for me. They made check in/out super easy. There were comprehensive details about checking in/out that were simple and easy to follow. They went beyond their call of duty by providing tips to make commute throughout the town even easier. Locals tips, restaurant suggestions, parking costs throughout town, etc. Issues were resolved in the blink of an eye. While I was there, the shower head broke. Within an hour of it happening, I sent the owners a text and they had their house keeper come in and replace it before I got back to the room. Within 12 hours or so of the incident. There were lots of thoughtful amenities throughout the room. Coffee, creamer, shampoo, conditioner, body wash, etc. Almost set up like a hotel in that sense. IMPORTANT: Also, not sure how important this information is to some, but this condo (like a lot throughout Breckenridge ) DOES NOT HAVE AIR CONDITIONER. It is listed in the post, it was just overlooked. Most people that are first time visitors out west tend to overlook the lack of air conditioner due to it being essential in the southern/eastern portions of the US. I didn't realize this and upon arrival messed with the heater attempting the turn on the nonexistent AC. It get pretty chilly at night so it's worth it to pull the box fan out of closet and pop a window open to let that cool air in. I had ZERO issues with having no AC. Just make sure to prop that window open as soon as you check in to relieve that stuffiness from the room. NOTEWORTHY POSITIVES: 1.) The condo is in the center of the town and an amazing location to walk to everything. 2.) The pull out bed (if you must use) is much more comfortable than a regular pull out. It's made of a thin memory foam padded mattress versus the typical thin spring mattress. 3.) The elevators are close to the parking garage and close to the rooms themselves making a lot less of a walk. NOTEWORTHY NEGATIVES: 1.) Currently, (7/20/20) the view is obstructed by construction workers. You can kind of see a Mountain View from in between in other buildings but it's not a very pretty view outside your window. Also, it's pretty loud outside. So opening the window during the day to relieve stuffiness comes at a cost. It would maybe be worth it to ask if the construction has stopped when you stay if that's something that'll bother you. It didn't put a huge damper in my stay though. 2.) As a lot of other places are continuing to do due to the COVID-19 Pandemic, a lot of more room amenities are currently not being offered. The fitness center was closed, the pool was down to limited capacity (20) and was very complicated to use. You have to make a time slot reservation of only up to two hours. You couldn't choose the time frame, just which two hour segment you'd want in a day. You can also only choose one two hour time slot per day. Never more. You also have to sign a waiver every time you use the pool and there's someone standing there to make sure you're actually reading it even when you've signed it multiple times. The pool itself is nice was but it was almost not worth it to go because of how complicated it was. OVERALL: I would definitely stay again. It was super easy, and great for my needs. I was barely there, so I didn't need top of the line amenities. Everything you could think of needing is there so it's perfect for almost every taste. The hosts were amazing and easy to communicate with. The place was sparkling clean. Directions between host and customer were simple. Amenities were great."
Micro two bedroom nestled in the treetops about one mile south of downtown and the ski area. Recently remodeled in a hip mountain-modern style we have everything you'd need for a fantastic woodsy getaway. Sit on the massive sofa and stream a movie or just warm by the wood stove. Enjoy the treetop setting from the large deck. This place is way cooler than your typical ski condo.Not ski-in, ski-out and not right in town but hiking trails and the free town shuttle are a few hundred feet away. Or walk about a mile to Main Street.
What guests are saying:
"Tasteful and modern renovation. Well appointed kitchen and bath. Comfortable beds and spacious living room with fireplace. Private balcony to enjoy coffee in the morning or wine in the evening. Great location with easy access to Breckenridge and surrounding area. Highly recommend."
SUPERHOST
Entire condominium · 4 guests · 2 beds · 1 bath
Downtown Breckenridge condo. Walk to everything.
Enjoy the best ski mountain views Breckenridge has to offer, just 1/2 block to central Main Street and access to over 200 shops and restaurants. Ski-in at the end of the day down the 4 o'clock ski run to condo!
What guests are saying:
"Perfect condo for a couples ski vacation. Location is amazing, a quick walk to Main Street or several lift/gondola access points to the mountain. Condo is across the street from the end four o'clock run, which my tired legs appreciated at the end of the day. Clean, comfortable and convenient. Denise was great, responsive and polite, she has a very special place in Breck, we'll rent again! Outstanding experience."