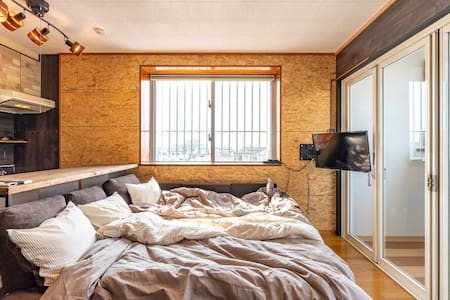 SUPERHOST
Entire apartment · 3 guests · 1 bed · 1 bath
沖縄、イオンライカムまで10分。東海岸、海、朝日が見えるワンルーム物件。無料 GYMあります‼︎
照明は全て暖色系になっており、大人ワンルームの部屋となります。
What guests are saying:
"Highly recommend this place to anyone who is considering. I stayed here for 2 weeks, and enjoyed every bit of it. Firstly, the place was clean and was just like in the photos, but even more comfortable. You can see the sunrise and sunset from within bed, which was very cool. The place also comes with a gym equipped with all the fundamentals. Location-wise, it is close to a convenient store and supermarket. The nearest bus stop, however, was a bit distant (20 minutes on foot) but that was not a problem for me. I took the bus to go to different beaches (e.g., Hamahiga Beach, Araha Beach, Ginowan Tropical Beach), all reachable in an hour. The area also offers one of the best running routes I have ever seen, and nothing beats running along the coastline. I must applaud the host's hospitality. He was super nice, and even gave me 2 masks (rare commodity these days!). Keep up the good work!"
Uruma Dome are located on middle area in Okinawa. To Naha Airport 1hour by a car. Most sightseeing spots in Okinawa are within an hour's drive and convenient for sightseeing. You can go to the sea in a 5-second walk, watch the sunrise and enjoy the walk and jogging! Also, 2minutes drive to [Mid-Sea Road]! URUMA DOME aims to create an accommodation facility where you can get away from daily life, reset your mind and body, and restart positively. ◆1 Free parking lot per room
What guests are saying:
"By taxi from Naha city to the house, including high-speed tolls, we could go for over 8000 yen one way. It costs around 2000 yen from downtown Uruma. I think it is good to rent a car because there is a parking lot. Although the directions are easy to understand, it seems that the address may not be registered in the navigation yet. The house was beautiful inside and outside, with storage, so I could relax like my own room. The furniture was IKEA-centric, functional and good. Tableware, condiments, and consumables were all saved and I was able to use everything I needed for my stay. In addition, it was very thankful to have you use washing machine and washing dryer. The bathroom mat was drenched, whether the bathroom drainage was bad or the usage was wrong. There was no bathtub. The bed was big and comfortable! The sea spread out in front of me and it was a very calm environment. The stars were not visible because it was cloudy at night, but the underwater road was lit up and it was beautiful. I was warned to be careful about the noise, but I could not hear it during my stay. I'm sorry that my person gets noisy with the washer and dryer. The staffs are polite, gentle, and grateful for their help."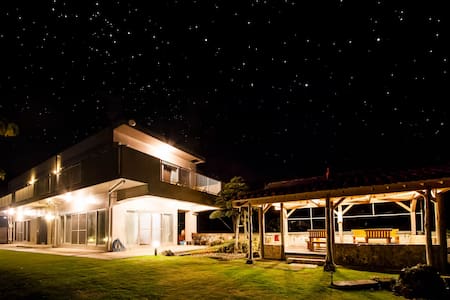 SUPERHOST
Entire house · 16+ guests · 5 beds · 3 baths
Private beach/stadium of stars/4BDR 200㎡/Spiritual
Hamahiga island is located on the east of Okinawa mainland. To the island, you can drive from mainland. It is said that gods live in the island and famous for being spiritual spot. You can enjoy small island only 70 min. drive from Naha Airport. We're one of the biggest Airbnb in the island where you can fully enjoy. Only 5 seconds walk to the private beach where your group can have a good time. It's best-kept-secret beach.
What guests are saying:
"We had a great time at Taichi's place. It was very clean and well stocked. We loved the semi private beach, the cove was gorgeous. The kids played at the beach every day. Our only complaint was that it was inconvenient to go to restaurants. There were a few within 20 min that were opened for lunch but we had a very hard time finding places to eat dinner. We ended up buying groceries and cooking ourselves or eating from convenience stores. The property and beach access were worth the food hassles though. There were beach chairs, tables and a hammock to use (no extra towels for the beach though) and we were able to find inexpensive water floats and beach toys at the local convenience store. The beach is a little rocky so we wore water shoes while playing in the water but the water is clear and blue and amazing. GREAT for kids and snorkeling and relaxing. (not the best site for surfing. very little waves) The outdoor covered seating area was beautiful and the house was very nicely furnished and comfortable."