このお部屋は3名までのグループやご家族でご利用ください。トイレとシャワールームは共同になります。 空港や中心街から12キロありますのでレンタカーは必須です。空港でお手続きをお勧めします。 近くにはスーパーとコンビニがありますが、市内で買い物をされてからお越しになってください。 棟続きの離れは居酒屋ですので、パーティやご家族のお食事にご利用ください。 Please use this room for up to 3 people of group or family. Toiret and kitchens are shared. And 12kirometers away from the airport or downtown, so please use a rentalcar. There are supermarket and convenience store nearby, but I recommend go shopping in the city defore coming. The house next door is Izakaya restaurant.
What guests are saying:
"It feels like a house in the city of Sarahama, the port town. However, the character of Aguya is easy to find, so it's easy to find and because it is along the so-called main street, the transportation is good (it is good for bicycles because there are slopes wherever you go). The room was very clean and I was particularly impressed. Isn't it outstanding in the island inn? Overall, I think the cost and hospitality are the best."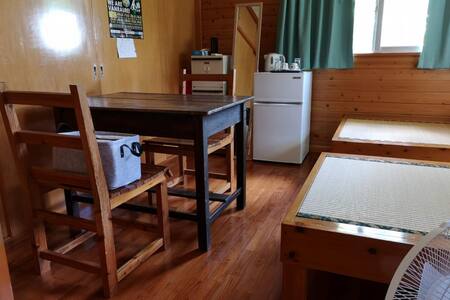 SUPERHOST
Private room · 2 guests · 2 beds · 1 private bath
La Bona - near the center, rich nature hideaway
※Sorry, from October 15th to 30th we can communicate just with Japanese! Built 12 years ago, a very ordinary Okinawan house. You can use a private room, approx 12 to 13 ㎡ of large, including 2 single beds , a private frige, a desk, an airconditioner, a pot, a large wardrobe, wifi, etc. You can also use a large bathroom including toilet and laundry room privately. Locatition is not bad, 15 min walk to the center of Miyakojima, you also have a private parking lot. I'd be glad to see you. Thx.
What guests are saying:
"I was indebted for 5 days and 4 nights. A nice place surrounded by greenery. The daily room cleaning goods were available, and the toilet and bath were comfortable in a clean environment. We were struck by a typhoon during our stay, but we received advice and were very reassured and relieved. Tokko's freshly brewed coffee is blissful ❤︎ very delicious! I would be happy if I stayed again when I triped to Miyakojima. Thank you ❤︎"