◇新型コロナウィルス感染予防対策について◇ ① 1日1組だけのゲストに限定しています。 ②お部屋・備品の清潔、除菌の徹底 ③世界基準のウィルス除去空気清浄機の設置 私たちホストも ・マスクの着用 ・毎日の体温の測定 ・手洗い・うがいの徹底 ・アルコール除菌剤による  手指の消毒   ・最低限の接触 を心がけてお迎えします。 ◇お子様連れの場合は、必ずお問い合わせください。 【30泊以上の連泊に限り承っております。】 ◎お問い合わせください! ◆鎌倉まで約30分 ◆新横浜まで約30分(新幹線乗換え駅) ◆渋谷まで特急で約30分 ◆中華街、山下公園までは徒歩15分 港沿いを歩きながら、赤煉瓦倉庫やみなとみらい地区へのウォーキングコースも人気です。 ◆周遊バス【あかいくつ号】の停留所も、自宅から3分の場所にあり、大桟橋ターミナルまでは10分、赤煉瓦倉庫などの観光スポットに大変便利です。 ◇コンビニは、自宅から徒歩6分の場所にあります。 (手前にコインランドリーも有) ◇コインパーキング(最大料金あり)は、徒歩3分の場所にあります。
What guests are saying:
"In fact, I was planning to stay in Tokyo, but now Tokyo has so many guesthouses that there was no space to stay at home like this. The reason I stayed at this house was to relax in a Japanese home. It was one night, but quietly rests well. Because it is around Yokohama Motomachi, it is very quiet and elegant. You can think of it as a Korean rich country. Close to Motomachi Shopping Street. Highly recommended."
和のしつらえと木のぬくもり、オニタビハウスへようこそ。自然素材で温かみのある家具、そして木、和紙、織物などの手仕事クラフトのインテリアでおくつろぎください。完全個別のエントランスかつ独立型のワンルーム(1階)です。目の前のコンビニのほか、周辺には商店街や最新のショッピングモールもございます。新型コロナ感染対策の清掃スタンダードを順守し、安心安全かつ快適にご滞在いただけるものと確信しております。
What guests are saying:
"Tanaka San is well worth a super host. Spontaneous answer to all questions and queries. His place is well-decorated, well-equipped and sparkling clean. The place is located in a very peaceful residential area. On the way from train station to the place there are several supermarkets, convenience stores and restaurants. It may be a little long walk from train station but worth staying there."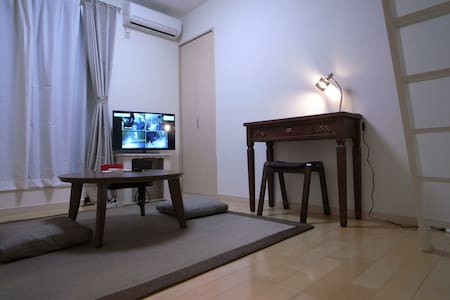 SUPERHOST
Entire apartment · 2 guests · 2 beds · 1 bath
One room new apartment in YOKOHAMA near KAMAKURA
I'll rent a room in the apartment of building for 4 years wholly. I'll rent a room newly this time. I'm preparing a futon and towel kinds newly. There is a microwave with a mini kitchen in IH, a new refrigerator and a new oven, and it's possible to cook easily. With televisions. There is also latest washing machine (newness). The restroom is different from a bus. Everything is for exclusive use of course. It's with a loft. Store is enriched.
What guests are saying:
"Hiroyuki-san is the best host we've met on AirBnb! He's extremely helpful and attentive, and truly cares about the wellbeing and comfort of his guests. The apartment was very clean and had all the amenities you could ask for. The location is also very convenient, as the bus stop (2 minute walk from the apartment) can take you directly to the Yokohama Station, from which you can travel to pretty much anywhere in Japan. Will definitely stay here again! :)"