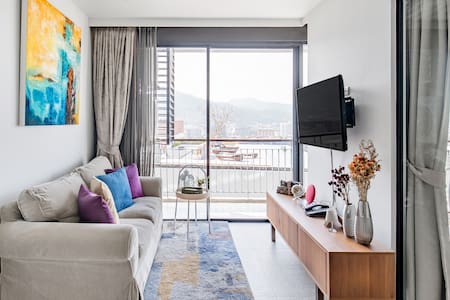 SUPERHOST
Entire apartment · 2 guests · 1 bed · 1 bath
Endless Patong Ocean View from a Hilltop Condominium, Phuket
Drink in mesmerizing azure expanses of sea, sky, and city from every corner of a glass-walled home. Light dances off a sparkling white palette with cheerful pops of color. Shared amenities include a rooftop infinity pool, gym, and 2nd-floor garden. The property is on hillside. The slope and practical representation of it is 14% slope for 160 meters. Walking up and down are made much easier with wide gradual steps of the sidewalk.
What guests are saying:
"This place is even more beautiful then the pictures. It's one of the nicer places we've ever stayed in. The deck and the rooftop infinity pool are gorgeous. It's decorated beautifully. She was so thorough when creating this air bnb. She made a book of things to do, where to eat, story of herself, etc. As well as a cook book with good recipes book marked. It was a nice touch. And yes, everyone's mentioned the stairs/hill. It is very steep and a good workout. My boyfriend counted, it's something like 150 steps. If you're out of shape, older, or knee/ankle problems it's not the place for you. We enjoyed it. We eat super healthy at home so it's nice to hike off a little of the carbs we're eating out here. One other tiny note, the bed is def more on the firm side. Normally I'd dock a point for that but it seems to be a theme here in Southeast Asia. I'm beginning to think they just like firm beds. Shower was great, plenty of hot water. (Those are the two things i look for, bed and shower heat, so i like to throw that in there). Walk ability is great, we walked everywhere. The only time we got a tuk tuk was to the patong boxing stadium and that was because we were short on time. We might have walked if we had more time. Overall it was fantastic and I'd stay here every time i come back."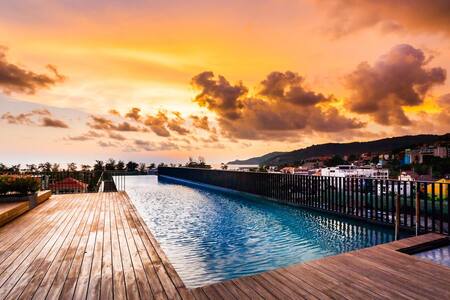 Entire condominium · 2 guests · 1 bed · 1 bath
D22 - Luxury Patong Beach 44 sqm (NO HIDDEN FEES) for 2 with Pool & Gym!
44 sqm brand new 1 bedroom apartment in the best location in Patong, 5 minute walk to the beach, 10 minute walk to Bangla Road and Jungceylon mall. The building is new, with great amenities, a 50 metre lap pool, a rooftop swimming pool with sunbath area. Exercise room with steam room, garden, 24 hour security and parking area. Laundry room (coin operated) Free bicycles available at guest services! Our fully air conditioned apartment is decorated in modern style and it's equipped for a perfect holiday. Featuring a king size bed, wardrobe and a laptop friendly desk the bedroom can be an open space just by sliding doors. The bathroom includes a big bath tub in addition to a walk in shower. The kitchen is fully equipped, has cutlery & kitchenware, pans & pots, stovetop, toaster, microwave and kettle. Electric and water are included in the price, please close windows and doors when AC is on. Turn off AC and all lights when you leave. Daily cleaning is not included, but we can arrange at extra fee. Cost is 600 baht. If cleaning is required, please book 48 hours in advance. Late check in is available on request. Size: 44 m2. Amenities: Bed Linen & Towels, Cable TV, TV, Balcony, air conditioning, sofa, swimming pool, separate entry, Iron, Safe, Restaurant, Elevator, Free Parking, No Smoking Rooms/Facilities, No Pets Allowed, Outdoor Pool, 24 Hour Security, Shopping Mall, Free Wireless Internet, Shared Swimming Pool, Security camera at entrance, Gym, No parties, Bottled water; Bathroom: Soap, En suite shower, Hair Dryer, bathtub, Toiletries; Bedroom: king size bed, wardrobe, Bed Linen, Towels, hanger; Kitchen: Refrigerator, dining table, Cookware & Kitchen Utensils, Crockery & Cutlery, cooking hob, electric kettle, microwave, toaster;
What guests are saying:
"I always book Airbnb Appartement, when i travel. I must confirm that staying and communicating at Loftys Place was one of my best experiences. The Appartement are very well equipped and look amazing. The location ist great. It's perfect for couples. Not far away from the beach and from the loud party area, so you can have a quiet neighborhood which is very near to the center. I strongly recommend these Apartments. The best thing about booking a Lofty Appartement was the communication with the staff. I have never experienced a better communication. The are 24/7 available for any questions or calls. They are very kind and will try the best to help at any time. I used their service to book to trips (James Bond, Hyperboat). The James Island Trip was great. We had a problem getting back to the hotel, cause we had to wait to other group, so we had to wait abt 50 minuets. But it's wasnt Loftys fault so it's not a minus point for them. The second service was the Hype Luxury Party Boat. Well I don't recommend it to anyone who really want a luxury party boat, because it's NOT LUXURY at all. Especially if u are a couple and want chill out lounge music with chilling atmosphere, because it's really not. the promise chilling nice atmosphere at the boat and good snorkeling areas. Due to the bad weather we had to change the route to another snorkeling area. I was asked to sign, if I agree l. Before signing I asked the staff twice, if it's a good snorkeling area(the alternative one) and the staff confirmed twice. 20 min later I asked another person of the staff and he told me that its not a good snorkeling area. It felt like weird so I didn't sign. The second staff member was right. It was the worst snorkeling place. We were allowed to stay 50 min at the new area, then we had to go back. On their website they promised 1.5 h of good snorkeling. They claim on their website (Hypewebsite Not Lofty) that they serve alcoholic beverages. We found out on the boat, that they don't serve alcoholic drinks because of Buddha day. I asked them why didn't they update ist a day before and why didn't they cancel the trip, if the weather was going to be bad. Their answer was more ridiculous than their service. They didn't cancel it because most people have fun, even if the weather was bad and they only knew very late that today is budda day so they didnt tell anyone or sent any messages or mails. That's was the boss answer on the boat. The official website answer (Lofty was very kind and sent them my complain) was that it's very rare that customers order alcoholic drinks on their boat, that's why they didn't need to tell anyone about budda day. The whole experience was really bad. Not to mention the drunk group who bought Illegaly alcoholic drinks on the island before leaving and were served with empty ice buckets to drink alcohol. They were served even from the boss. So to conclude every thing.. Thanks to Lofty the company refunded me for this horrible experience. To conclude everything: 1. I totally recommend Loftys services and Appartement. 2. Best communication ever. 3. DON'T BOOK THE HYPE BOAT. IT'S A SILLY 'WANA BE' LUXURY BOAT."