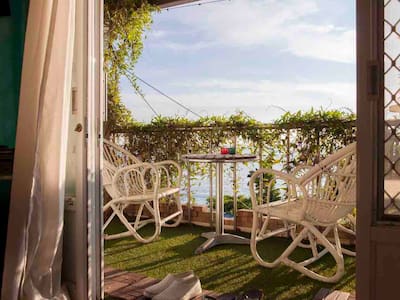 SUPERHOST
Entire house · 5 guests · 1 bed · 1.5 baths
Seaside House, Pier-2 Art Center, for 2-5 people
Hi there From here to downtown only take 20 minutes. You can see the sunset by the sea when you just open the door. That's so amazing for city traveling. By the way. It's very close to the sea. So the place should be a little difficult to find especially for foreigners. And this is a reservation for foreigners. So before you book here please leave a message for us to let you know it's available or not. We sure we would reply you as soon as possible. Thanks. Wish you have a wonderful trip
What guests are saying:
"Super cute little cottage by the sea. With perfect sunsets every evening. The accomodation cannot be located by googlemap but the host provides very detailed instructions before check in which makes finding the location idiot proof. The cottage is located in the Gushan district in kaohsiung which means it is not easily assessed by public transport. And not within strolling distance of suprmarkets, night markets and eateries. It would be best if you have your own scooter or car, as the cottage is set on a hill. However the host will have plenty of recommendations including helping with transport options so do not worry. Love the fact there is no wifi nor clocks in the cottage. Perfect place to chill and get away frrom the mad world. Everything is alittle old and cracked in the corners but adds to the charm of the little cottage. Kinda feels like grandmas house in the countryside. Theres a great speaker , a guitar, plenty of books and good kitchen. Theres a bedroom and a super big living room with a double bed. Good to accomodate 4-5ppl but probably would be more comfortable for a couple. Nearest neighbourhood is xiziwan which due to its proximity to the university is full of cheap cheerful little eateries. Highly recommend to anyone. Especially those who need to get away from the madness of hectic Asian city ."
Located in the most literary drum mountain area of Kaohsiung City, the transportation is convenient. Walk for about 10 minutes to reach the 2nd Art Zone 10-min walk to The Pier-2 Art Center. There is also a beautiful view of the West Bay, where you can watch the sunset and the night. Near Si Ziwhich is a well-known summer resort in Kaohsiung. You can enjoy the sunset and night view there. Located near Kaohsiung's famous "Xiziwan", "Qijin", "01 Xiziwan MRT Station", the transportation is very convenient. It can be easily reached by mass transit. It is full of enthusiasm during the day and enjoy Kaohsiung cuisine at night~ The owner is very demanding on the quality of the rented space. The main principle is to provide a comfortable and clean environment. The tenants are simple, comfortable and quiet, and the spacious layout and unique design make up the building. The laid-back living space, in addition to giving the best enjoyment in the visual, also allows you to live in a feeling of warm home!
What guests are saying:
"I like the place and room very much. Comfortable, clean and cosy, it is very near to various tourist attractions such as pier 2 and Cijin island ferry Harbour. A good place for solo female traveller to stay. There is refreshments provided at first level and you can help yourselves to it. A place to mingle and know new fellow travellers from different countries as well. Nice place and I'll choose the same place again if I am back to Kaohsiung again :) "