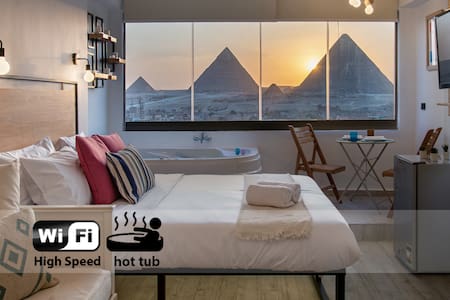 SUPERHOST
Entire apartment · 4 guests · 2 beds · 1 bath
Jacuzzi By The Historic Giza Pyramids! 5 Min Walk
Welcome to the Pyramids Boutique Apartments The best place to enjoy a great view of the Magical Pyramids Of Giza!! Yes, the view and pictures are 100% real. (Be sure to check out our other listings too) Indulge in a stunning view of all the Giza Pyramids from anywhere within this contemporary oriental studio or while relaxing in the Jacuzzi available. It is also a 5 min walk from the Pyramids entrance gate. To make the most of your trip, make sure to check out our excursions and private tours!
What guests are saying:
"The hot tub was wonderful It takes a little over an hour to fill. Even with the blinds open you have a lot of privacy. Bob and Joseph were fantastic and a lot of fun. They were very flexible and did whatever I wanted to do. I made lots of changes to the schedule and he was very good at accommodating me. The place was very clean. If you are a thrill seaker ask Bob to do fast and firious driving but know what you are getting into its just like the movie. Though it's not recommended you might be able to sneak onto the roof at night if it's a full moon. But be careful there are no guard rails and you could fall to your death. But it's a cool place to look around but watch your step if you sneak onto the roof. But seriously you should not go up there it's very dangerous. I love Bob and Joseph I can't wait to come again."
Fully furnished , equipped and air_conditioned studio pyramids view , a few steps from the entrance of the Giza pyramids area .
What guests are saying:
"A great place to stay while in Giza. The view from the roof is just unbeatable, as it is right next to the pyramids. I was served a very large and delicious breakfast every morning on this roof. Mohammad was able to arrange an airport pickup and drop off for me, despite my arrival being very late at night. He also arranged a wonderful 2 day tour for me around Cairo and Giza. The room was very clean and spacious, with a balcony that had views of the pyramids. If you want to wake up every morning to a delicious home cooked breakfast with a view of the pyramids, this a the place for you."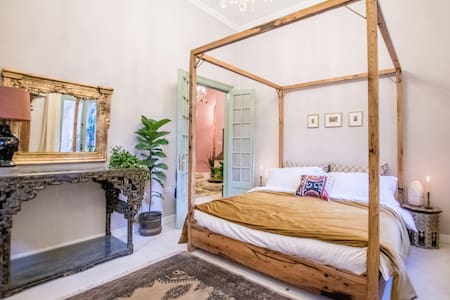 SUPERHOST
Entire apartment · 6 guests · 2 beds · 1 bath
--Eclectic oasis in the heart of DOWNTOWN Cairo--
Stay in style in the perhaps most beautiful Airbnb apartment in Cairo, located in an early-20th century building situated in the freshly renovated pedestrian quarter of bustling historic downtown Cairo - the cultural, financial, and startup center of Egypt. With 4 meter high ceilings, reused architectural details, and a skillfully curated mix of antique, vintage, and new furniture, this two-bedroom apartment boasts 3 balconies, a comfortable kitchen, and an additional loft bed area.
What guests are saying:
"What an amazing experience to stay in this appartment. Every detail is right. The beds, kitchen, sofas, balconies everything very beautiful and comfortable. The help of the doorman was outstanding and the location of the appartment was remarkable. We walked to the Egyptian Museum! We like to suggest everybody to rent this appartment, it will be a once in a lifetime experience!!"