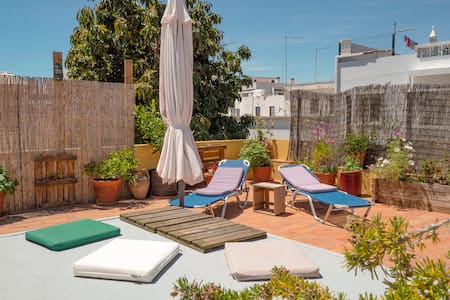 SUPERHOST
Private room · 2 guests · 1 bed · 1 private bath
CityCenter-Rooftop Garden/Priv.Bathroom/AC/Netflix
In Downtown, 3 min walk from Faro Old Town, with a unique patio and terrace, located in a very calm dead end traditional street, no busy traffic and 300 days of sunshine per year :). You are booking a private room for 2 people, double bed (1.50 m*1.95 m), WiFi and AirCond. , Smart TV (Netflix only), ensuite bathroom and shared common spaces. Before making a reservation and for a wonderful and pleasant stay just have a look at the listing description and house rules, it doesn`t take long ;)
What guests are saying:
"A beautiful home with everything you need to relax and enjoy. The roof terrace was beautiful. We enjoyed getting delicious croissants and coffee from the market nearby and have a relaxing breakfast here each morning. We stayed in the upstairs room and it was so clean and bright, the shower was good also. Lots of beautiful photos and interesting decorative pieces to feel like you are at home. Would definitely stay again. Great spot for exploring Ria Formosa and surrounding area. Thank you Filipe!"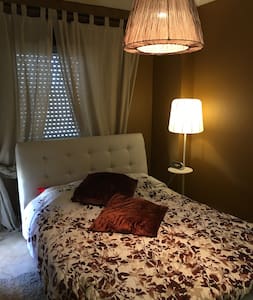 SUPERHOST
Private room · 2 guests · 1 bed · 1 private bath
ENSUITE DOUBLE BEDROOM, ENJOY OUR SEA VIEW BALCONY
Cozy double bedroom with amazing view over the sea, also called "Ria Formosa". Amazing location too, 5 minutes walk from the center, bars and night life, and restaurants. 7 minutes walk to the main shopping center where all amenities can be found. The room is also provided with, cable TV, full speed WiFi, printer, and full access to the kitchen.
What guests are saying:
"A very friendly welcome. We were shown around the beautiful apartment and even had a lovely coffee machine. We would have loved to stay longer and use it but overall a fantastic welcome and apartment with an amazing balcony ☺️"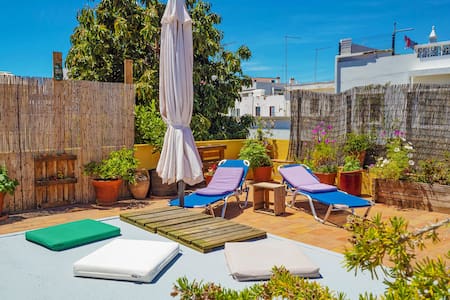 SUPERHOST
Private room · 2 guests · 1 bed · 1 private bath
Downtown/Priv. Bathroom/ Rooftop/WiFi/AC/Netflix
In Downtown, 3 min walk from Faro Old Town, with a unique patio and terrace, located in a very calm dead end traditional street, no busy traffic and 300 days of sunshine per year :). You are booking a private room for 2 people, double bed (1.50 m*1.95 m), WiFi and AirCond, Smart TV (Netflix only), private bathroom and shared common spaces.´ Before making a reservation and for a wonderful and pleasant stay just have a look at the listing description and house rules, it doesn`t take long ;)
What guests are saying:
"Our stay at Filipe was just wonderful. He is a great host, although he is not or very rarely present, he is available at all times and answers any questions you may have on a trip, practically at any time of the day or night. No matter what it was about, Filipe always gave us tips or said how we can do or find what, where, when. The house is wonderful and especially furnished with attention to detail. Wonderful decoration just round off the whole thing. The room was very, very nice, absolutely sufficient for 2 people and also very nicely decorated. The bathroom and the kitchen, which you can use almost in full, are very, very well equipped, nothing is missing. The check-in is super easy and can be done at any time without his presence. The roof terrace is an absolute highlight, here we enjoyed our coffee every morning with the rising sun and ended the day with a glass of wine in the evening. The location of the house is perfect, in about 5-10 minutes you can easily reach the (old) town of Faro on foot. The bus and train connection to the beach (about 20 minutes with the bus) and all other sights nearby is also great, also to the bus station in about 10 minutes. Many supermarkets, restaurants, bars as well as the harbor and some shops and buildings worth seeing are in the immediate vicinity. All in all, highly recommended, perfect value for money. We will recommend Filipe with a clear conscience and definitely stay with him again on occasion! Thanks again for everything, dear Filipe, it was just wonderful for you! :-)"