☀訂房前麻煩請花一點時間閱讀所有住宿資訊,符合您需求後再訂房,避免有不好的住宿體驗,謝謝!☀ ※老房子房間是用輕隔間,隔音沒有太好,要求房客降低音量維護所有旅客的權益及舒適性,可將氣窗關 上開空調減少噪音,若是非常重視睡眠的人,請自行評估後訂房。※請勿以此原因給負評※ 1.我們房源雖空間不大,但明亮、整潔、設施齊全、位置方便,適合旅人疲憊後簡單休息整備的住宿,以便宜的價格取得最佳的住宿品質。位置在長濱街區旁交通、飲食非常方便!到長濱各機關學校或吳神父腳底按摩,皆步行10分鐘內可達。有提供公用WIFI、客廳、飲水機、冰箱、洗衣機、晾衣場。 2.所有房型皆為獨立房間,但共用【2間公用衛浴】 ,請房客共同維護衛浴清潔。 3.提供的盥洗用品有★牙刷、牙膏組及"環保紙毛巾(請勿反映沒毛巾)"★,有遺漏或不足請 告知我們,會馬上補給您。 只在公用衛浴放置沐浴乳、洗髮精、香皂、衛生紙。 ★沒提供浴巾、布毛巾、拖鞋★ 有需要敬請房客自備。 4.所有房型皆沒對外窗,都有2個對內走道氣窗及冷氣空調。 5.為顧及所有旅客的權益及舒適性,全棟禁煙且不接受寵物陪同入住。
What guests are saying:
"Overall I feel that the cp value is pretty good, but the sound insulation is really worse! The person who is light sleep is not recommended, the screaming next door will hear haha "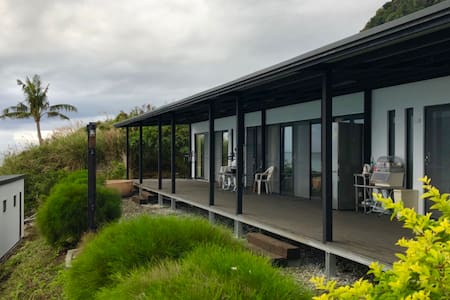 SUPERHOST
Entire villa · 16+ guests · 15 beds · 3 baths
Beach House W/Pool星空海濱泳池渡假屋4房包棟 Entire 4 Rooms
The new house is shown in the picture, the room has a bathroom, a simple kitchen, pots and pans, refrigerator, dining space, barbecue, the room can be equipped with a king bed + sofa + table and chairs for two people, or a king bed with one The king-size sofa bed is for four people, and a single bed can be added if necessary. The swimming pool is open all year round. There is a large parking lot for pets.
What guests are saying:
"The accommodation experience was very good. We checked in at 3 o'clock. The landlord was already waiting on the spot. Although the entrance was difficult to find, I found that there was no place after staying. There is even a swimming pool where children can play, and there are small passages to walk by the beach. All the equipment is available, the pots and pans are complete and clean, and the wash basin also has a large countertop for easy preparation of food. Overall, it is a good stay experience. I recommend this homestay."