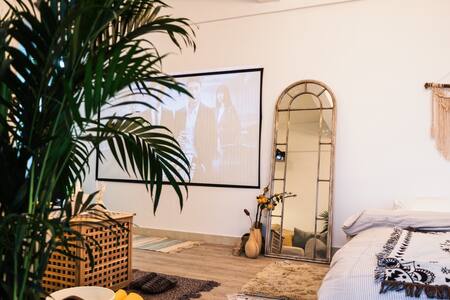 SUPERHOST
Entire condominium · 3 guests · 1 bed · 1 bath
<已消毒•可正常接待>月月•波西米亚投影落地窗/地铁4/7号线/武昌火车站/昙华林/长江大桥/黄鹤楼
The white bohemian style, I hope you can like it ~ My room is located in the center of Wuhan, with convenient transportation. Downstairs is Metro Line 4 and Line 7, the bus terminal, adjacent to the train station and bus station, and is close to major attractions. The room has a full-length floor-to-ceiling window, the sun can spill on every corner, and the 1.8 bed can accommodate 3 people to sleep. The room is equipped with a microwave oven, Yunmi washing and drying machine, Xiaoai classmates, wireless charger, etc. It is convenient for guests to use ~ Smart door locks are installed to provide protection for your safety. If you do not reply to the message in time, please don't worry, you will reply immediately when you see it. Thanksgiving ~
What guests are saying:
"The room was very neat and clean, just like the picture, it was smaller than the picture, but it was very warm. It is very comfortable to watch the projection on the small sofa, there is Tmall's magic box, you can connect your own iPad and mobile phone. Room plugs are also more convenient. The location is easy to find. The subway station entrance is less than 50 meters downstairs, which is very convenient. The landlord missed the news and she was very nice. One small suggestion is that the small rugs in the room are a bit old and easy to wrinkle. The overall experience is very good, the price is also very high, is a good choice, very suitable for girlfriends or couples to live."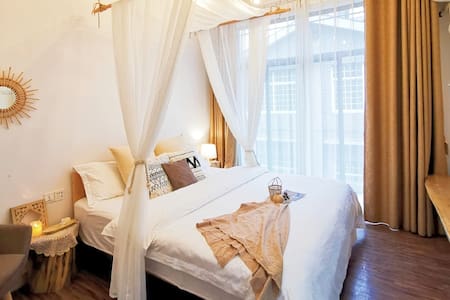 SUPERHOST
Entire apartment · 2 guests · 1 bed · 1 bath
⭐❗投影大床房❗⭐【小白房】-近天门山国家森林公园/火车站/带阳台/可住2人/楼顶露台可观天门洞
小白房位于张家界市区机场路楚家台,临近火车站、汽车站、市中心,天门山国家森林公园。距离荷花机场5分钟车程,天门山索道公司5分钟,火车站、汽车站6~7分钟。楼下有4路,8路公交直达各交通枢纽站及天门山景区,市中心。   有时候觉得空间需要一定程度的留白,更多的让你来想象和描绘,这套房源整体色调非常沉稳,没有过多装修,更多的是朴实,朴素。极简风格,1.8米大床+休闲沙发单椅,功能强大的小衣帽间+工作间,落地窗+大阳台。无论是出差商旅还是度假旅游都非常的合适。 ps:入住期间请不要携带宠物,房间虽然有做隔音,但晚上十点以后以后请不要大声喧哗。谢谢大家的配合!
What guests are saying:
"The geographical position is particularly good, the airport and the station were very close in the past, and a taxi to Tianmenshan Ropeway Company is also the starting price. There is a living supermarket opposite, the room is very warm, A Shui Mei woman is particularly good, 360-degree all-round docking, awesome!"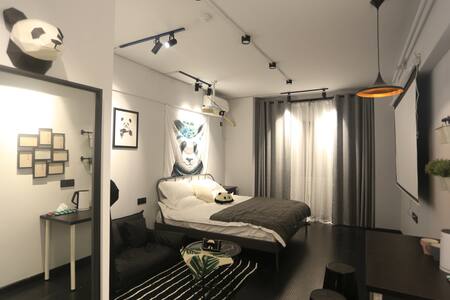 SUPERHOST
Entire apartment · 3 guests · 1 bed · 1.5 baths
【索屋民宿-向熊猫】武汉汉口后湖兴业路地铁站/100寸投影/精装修标准/熊猫主题房/24小时客服
Suowu B&B Series---To Panda This homestay is a Nordic + Industrial + Panda theme room. Hihi! ! This is my first homestay design by the designer male friend Liao watermelon. I have used the network nickname for more than ten years. Hahaha (a little narcissistic). When this room was completed, we had a good sense of accomplishment. The excitement was originally a cold, three-character to the panda. Now it's in front of me in the form of the physical property of the hotel. Hahaha is great! I hope that I can feel my joy and excitement when I kiss you! Hahaha! [Suowu B&B] In line with the brand concept of light luxury, sentiment, youth, fashion and comfort, from the "smell, sound, vision, touch, taste" five senses surround every detail you put, let you be in every place Everywhere is beautiful. We currently have a number of high-standard rooms of different styles in the same building, 100-inch large-screen projection, international brand bathroom, high-end toiletries, star-rated mattresses... Everything is waiting for you to experience. More room types, please read more about my avatar.嘿嘿嘿
What guests are saying:
"This is the most satisfying homestay I've ever stayed in. The feeling of going in was more than expected, prettier than the picture, clean, and the details were in place. Very satisfied after staying for a week. Downstairs is Lawson, and shopping is also convenient. When we finally left, because our train was at 3 pm and it was raining outside, the landlord also asked us to communicate well before the room was left. Next time you go to Hankou is the best choice ~ recommended to everyone"